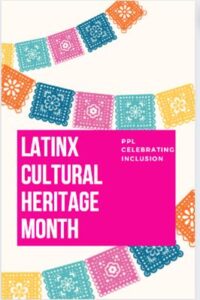 Reading in the Margins:
PPL Celebrating Inclusion
Each month we highlight a selection of books focusing on people who are sometimes marginalized. You can find the books on the old card catalog/display table near the entrance, or view the booklist on the home page of the library catalog.  I (Laurie) have set myself the challenge of reading at least one book from the display each month! 
January: World Religions Month 
The Book I Read:  Nonverts : the Making of Ex-Christian America by Stephen Sebastien Bullivant
February: Black History Month 
The Book I Read: An American Marriage by Tayari Jones
March: Women's History Month
The Book I Read: Lab Girl by Hope Jahren
April: Older Americans Month
The Book I Read: The Marlow Murder Club: a novel by Richard Thorogood
May: Mental Health Awareness Month
The Book I Read: The Great Pretender: The undercover mission that changed our understanding of madness by Susannah Cahalan
Another Book I Read: How to Keep House While Drowning: a gentle approach to cleaning and organizing by KC Davis 
June: LGBQT+ Pride Month
The Book I Read: Gay Power: The Stonewall Riots and the Gay Rights Movement, 1969, by Betsy Kuhn
July: Disability Pride Month
The Book I Read: The Lady's Handbook for Her Mysterious Illness by Sarah Ramey
August: Immigrant Heritage Month
The Book I Read: Someone New/ I'm New Here by Anne Sibley O'Brien 
September: Latinx Cultural Heritage Month