A CoVid19 Related Update
As we enjoy a temporary respite from CoVid-19 here in the Quiet Corner, we are moving forward with our fundraising efforts for our library expansion project armed with new knowledge. Our recent months of quarantine have emphasized how important gathering is to our personal and community well-being, as well as highlighted some things about public gathering spaces that need to be taken into consideration.
The library continues to be a place that meets community needs, as evidenced by the robust curbside business during quarantine, the attendance at zoom book clubs and the registration for outdoor socially distant programs now being offered. The need for community and connection has never been stronger, and the library is poised to meet that need.
While we hope that there will be a vaccine for COVID-19 by the projected break-ground date (early 2023), the pandemic has underscored some things about our library gathering spaces that will need close attention, such as air circulation, the ability to spread out and safely gather indoors, and easily cleanable surfaces, to name a few. Although our fundraising efforts are going strong, there is still plenty of time to get involved and contribute. Every bit counts!
Public libraries now provide services, resources and technology that didn't exist when Pomfret Public Library was built! Lending books is still our stock-in-trade, but there is a new emphasis on group learning experiences, creativity, and community events that necessitates meeting room spaces, technology, equipment and furnishings.
The planned addition to Pomfret Public Library includes about 2000 sq. ft of meeting room space for groups of 8 to 60 people.  This space will be available for programs and events sponsored by the library and by other community organizations.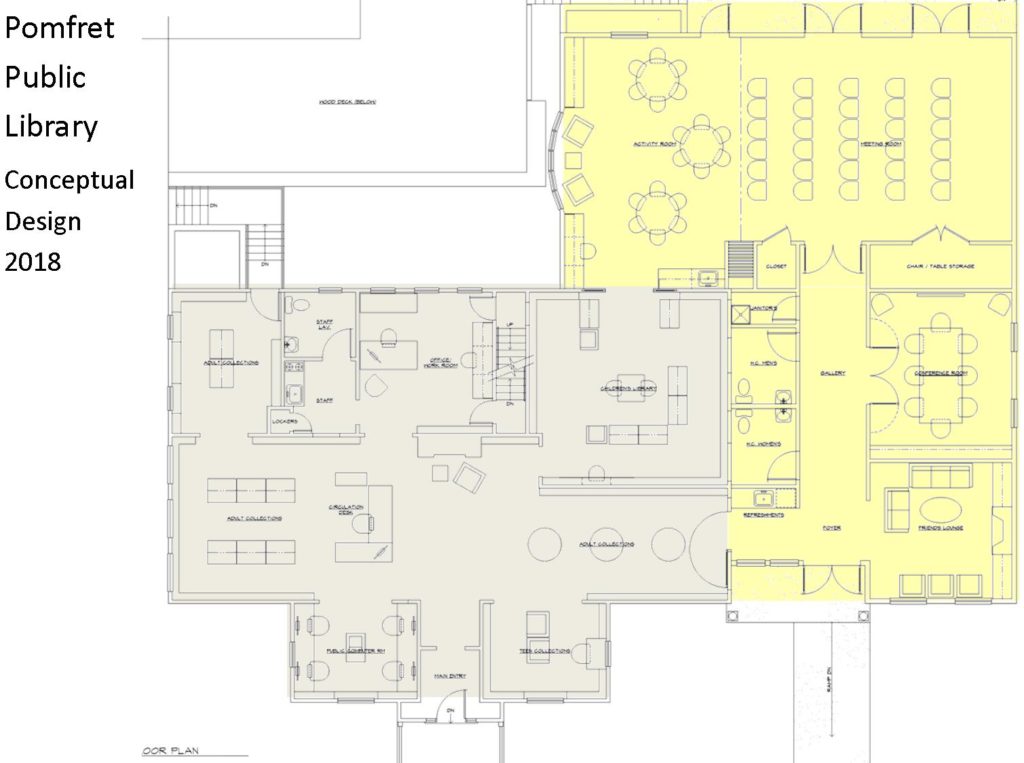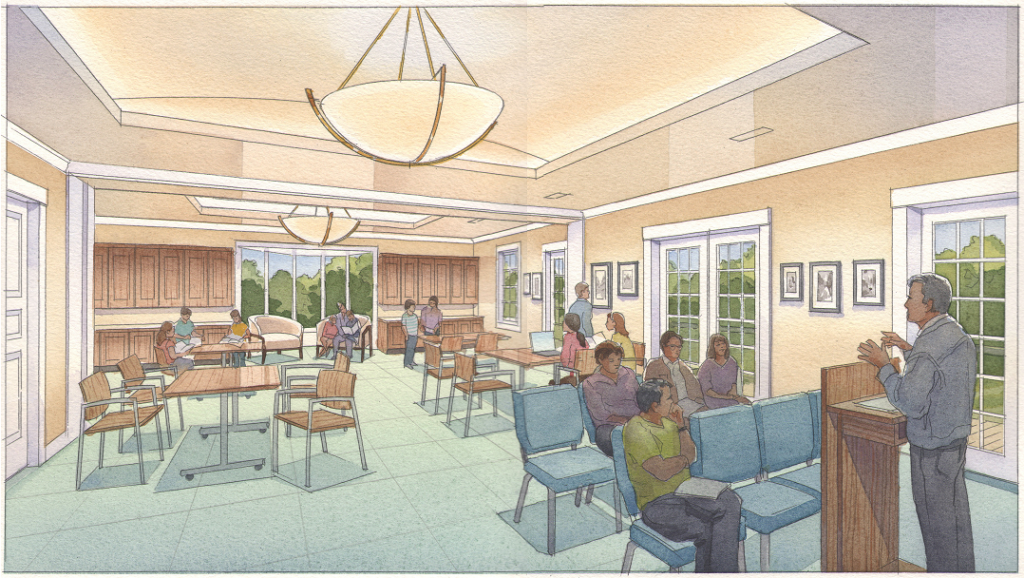 Improvements include:
Lounge & café: space to relax or have a quiet conversation
Conference Room & Archives: business & board meetings, research the archives of the Pomfret Historical Society
Great Room: meetings, concerts, classes, movies, lectures, poetry, workshops…
Activity Space: a Story Time/group play/Maker Space equipped for art, crafts, games, STEAM
Restrooms: two private, accessible, unisex family restrooms
Art gallery: current and retrospective exhibits of local talent
Patio: extending the Great Room outside to the existing deck, gardens, and walking trail
Rooms available for booking after-hours: meeting space for local organizations, boards and clubs
Technology: all rooms fully equipped with computers, fiber internet, wifi, projection and sound
The Basics
The town was awarded a grant from the CT State Library that will cover half of the projected construction costs. 
The addition will be to the south side of the library. 
The new space is designed for group meetings and activities. The existing space will remain much the same, but with improved access to the collections.
We have a fund raising goal of $500,000.
We hope to begin construction in early 2023
details of the building project
how you can contribute