Buildng Project Update – January 2022
The building project at Pomfret Public Library is on track!
The Library Board of Trustees and Pomfret Board of Selectmen have appointed a Building Committee who will oversee the completion of the addition. Committe members are: Marc Archambault, Robert Paladino, Charles Weedon, Mary Wetherell, Ginger Lusa (Board of Trustees Chair), and Laurie Bell (Library Director).
The Fund Raising Committee is pleased to announce that we have received donations and pledges that meet the financial goals needed to match the construction grant from the CT State Library. 
We have  approval of the project from the CT State Historic Preservation Office (a requirement of the construction grant), and have completed the land transfer from Pomfret School.  The CT State Library has requested that our project be included on the next meeting agenda of the State Bond Commission. 
While the original financial goals have been met, the project costs are expected to exceed the original 2018 estimates, largely due to pandemic-related supply and shipping issues. The Fund Raising Committee would be pleased to speak with anyone who is interested in contributing to this community project.
Public libraries now provide services, resources and technology that didn't exist when Pomfret Public Library was built! Lending books is still our stock-in-trade, but there is a new emphasis on group learning experiences, creativity, and community events that necessitates meeting room spaces, technology, equipment and furnishings.
The planned addition to Pomfret Public Library includes about 2000 sq. ft of meeting room space for groups of 8 to 60 people.  This space will be available for programs and events sponsored by the library and by other community organizations.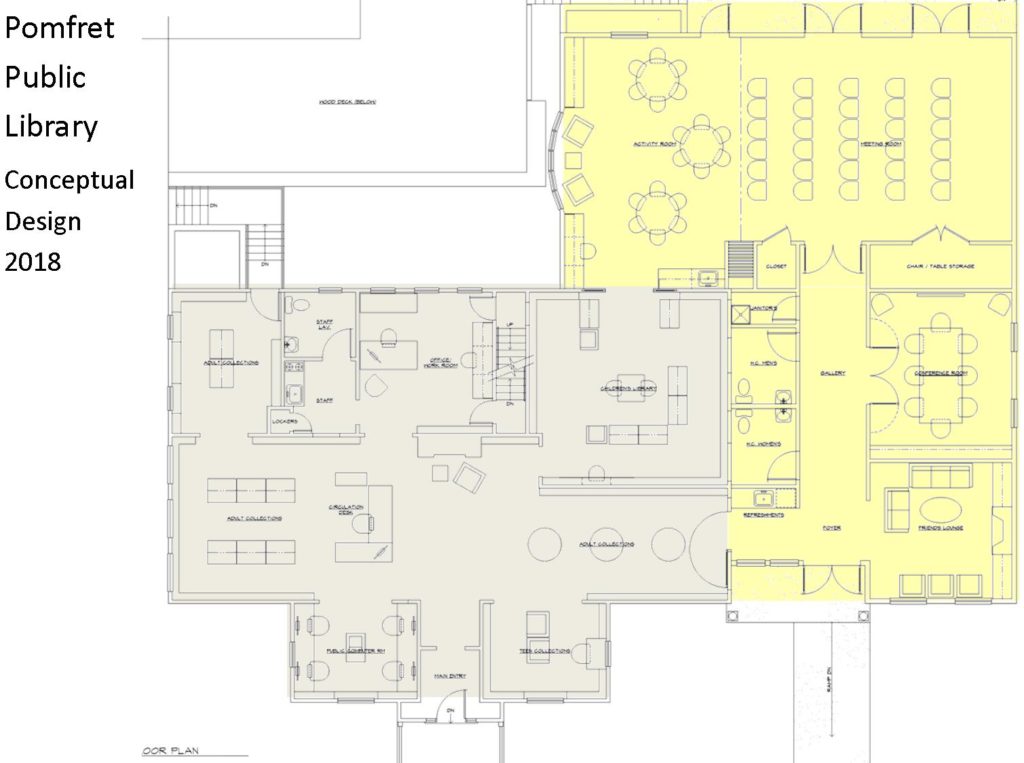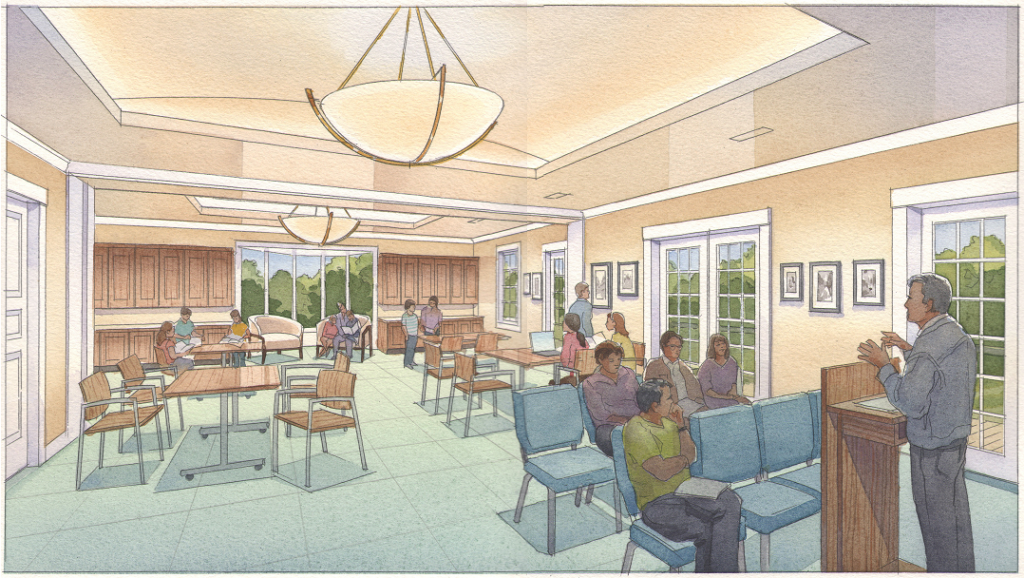 Improvements include:
Lounge & café: space to relax or have a quiet conversation
Conference Room & Archives: business & board meetings, research the archives of the Pomfret Historical Society
Great Room: meetings, concerts, classes, movies, lectures, poetry, workshops…
Activity Space: a Story Time/group play/Maker Space equipped for art, crafts, games, STEAM
Restrooms: two private, accessible, unisex family restrooms
Art gallery: current and retrospective exhibits of local talent
Patio: extending the Great Room outside to the existing deck, gardens, and walking trail
Rooms available for booking after-hours: meeting space for local organizations, boards and clubs
Technology: all rooms fully equipped with computers, fiber internet, wifi, projection and sound
The Basics
The town was awarded a grant from the CT State Library that will cover half of the projected construction costs. 
The addition will be to the south side of the library. 
The new space is designed for group meetings and activities. The existing space will remain much the same, but with improved access to the collections.
We have a fund raising goal of $500,000.
We hope to begin construction in early 2023
details of the building project
how you can contribute