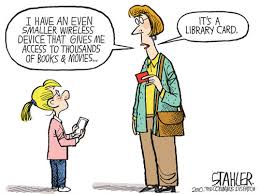 Congratulations! A library card is the smartest card you can get! It will give you access to books of all types, movies, magazines and great online resources throughout the state of Connecticut. It's like a Gift Card that never runs out!
Just stop by the library with a piece of mail or ID that shows you live in Pomfret and we can make a library card for you. Children may have their own card when they are able to write their name; parents or guardians must accept responsibility for items borrowed on their child's card.
Nonresidents are welcome to create a Pomfret Public Library account using a current card from the town they reside in.