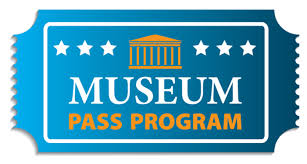 Pomfret Public Library has passes for free admission or discounts at the museums listed below. Passes are available on a first come/first served basis (no reserves) and may be checked out for up to 7 days, no renewals. Please see the museum website for info about exhibits, hours, directions, etc.
The Maritime Aquarium of Norwalk
The Maritime Aquarium inspires people of all ages to appreciate Long Island Sound and protect it for future generations. A vibrant and entertaining learning environment, the Maritime Aquarium achieves this goal through living exhibits, marine science, and environmental education. Receive $2 off combination ticket (Aquarium and Imax) for up to 6 people.
Wadsworth Atheneum Museum of Art
Free general admission for two adults and two children, up to age 17.
The Wadsworth museum is also free without the pass the last Saturday of each month, 10am-1 pm, and has other free admission offers.
No Child Left Inside/DEP State Parks and Forests Day Pass
Connecticut's Old State House
A blend of US history, state government, and civics in historically restored rooms, with many interactive children's activities. Free admission for up to two adults and two children.
Mystic Aquarium & Institute for Exploration
Discounted admission: Save $6 off adult and $4 off child admission. Good for two adults and two children ages 3-17.
Connecticut Science Center
Coupon for 20% off general admission for up to four people. 150 hands-on exhibits, a state-of-the-art 3D digital theater, four educational labs, plus daily programs and events, the Connecticut Science Center offers endless exploration for children, teens and adults. Every part of science will be at a visitor's fingertips, from Physics to Forensics, Geology to Astronomy.
Other Great Museum Deals:
Check the museum website to be certain that the deals offered below are still valid.
Providence Children's Museum MetLife Family Fridays – MetLife sponsors free admission from 5 PM – 8 PM selected Fridays. See the museum calendar for dates.
Worcester Art Museum Always free for kids 17 and under. Free the first Saturday of each month, 10am-12noon.
The William Benton Museum of Art The museum has an extensive schedule of art exhibits, events, film, and concerts. Admission is always free.
Old Sturbridge Village All admissions are good for a second visit within a 10-day period. Any guests of second-day visitors receive a 25% discount on their admission. 50% discount for active military personnel (show military ID at Visitor Center) and 20% discount for other members of the party.
Museum of CT History at the CT State Library Always free admission.You'll find exhibits that trace the growth of the State and its role in the development of the nation. The Museum focuses on Connecticut's government, industrial and military history.
CT State Museum of Natural History & CT Archaeology Center Always free admission. The museum's goal is to tell a story that integrates Connecticut's natural history with its' cultural history.
CT Art Trail A $25 voucher for admission to 15 CT art museums ($75 value).