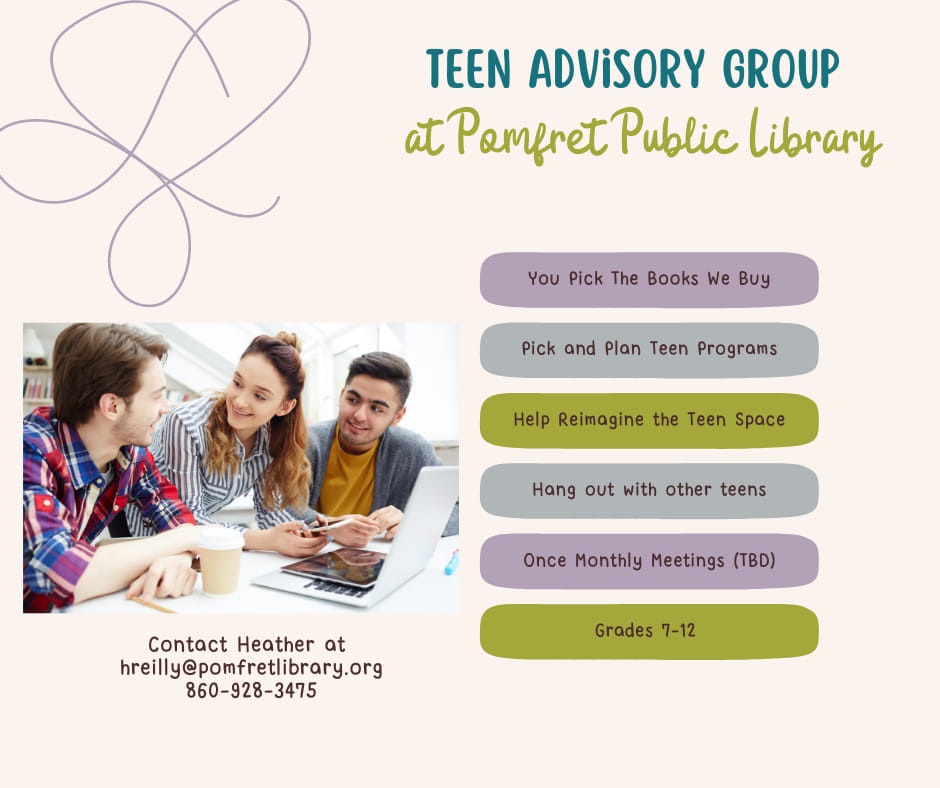 JOIN LIT!
(LIBRARY INITIATIVE FOR TEENS)
All teens, ages 12-18, are welcome to join lit, our teen advisory group. We meet on the last Thursday of each month. (Check the library calendar to confirm the times.) During our monthly meetings we hang out, discuss and pick out books, play games and activities, plan programs, and have some sort of social interaction besides school. You don't have to come every month (even though we'd love it if you did!). Come try it out and see if it's something you'd like to be a part of!  
Some of the programs the teens have inititated so far: A mycology presentation to learn about foraging in our region; an Intro to Dungeons & Dragons workshop; geocache-ing along our Sound Garden nature trail.  Come to a meeting, let us know what you're interested in, and we'll see what we can do!
Putnam Rotary Club has donated $4500 towards the
Teen Collection at Pomfret Public Library! 
Press Release, December 2021 – The Putnam Rotary Club has always been an advocate for education and literacy and this year is no different. Under the guidance of Rotary President Scott Pempek (2021-2022) and through a grant from Rotary District 7890, the Putnam Rotary Club is partnering with the Pomfret Public Library to enhance the library's collection of teen book titles.   Besides $4500 in monetary support, the club and library will hold a Teen Focus Group to give local students the opportunity to choose their desired book titles.  Members of the Putnam Rotary Regional Interact Club will also participate in the focus group.   Reading is not a technical skill that is learned once and only in grammar school but a developmental process that continues throughout a reader's life.  Through this grant and partnership, the Putnam Rotary Club hopes to encourage young people to embrace a lifetime of reading and learning by exposing them to various forms of writing, subjects and authors.  Rotarians (and avid readers themselves) Karen Osbrey and Marc Archambault are excited to work on this worthwhile project and look forward to book delivery day in early spring 2022.
         "This partnership with Putnam Rotary Club comes at an excellent time!" says Laurie Bell, director of Pomfret Public Library. "We plan to add on to the Pomfret Public Library soon and will be making upgrades to our Teen section. Thanks to this grant, our collection will now be as up-to-date as our space!" The library welcomes input from teens, parents, and educators regarding the teen collection, space, and future programming. More information about the Teen Focus Group and how you can take part is available at pomfretlibrary.org.