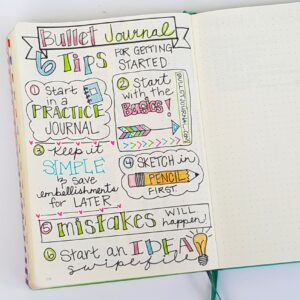 DIY Art & Craft Kits
It's the easiest way to try something new – check out one of our art & craft kits! Each kit comes with all of the supplies that you need to sample a new technique, medium, or project. Check one out, use what you need of the consumable supplies, return the whole package with any "leftovers" when you're done. 
SketchBox Kits Sketch Box is a monthly subscription service that inspires artists by introducing them to new materials, techniques and mediums. We snagged a few sets from their previous months so you can give them a try! Kits available include: Blendable Markers; Charcoal; Colored Pencils; Hand Lettering; Metallics; Oil Pastels; Watercolor Powder; Watercolor Markers; Urban Sketching.
Dot Journaling by Rachel Wilkerson Miller. Welcome to Dot Journaling (aka Bullet Journaling), the personal journal that is equal parts mindfulness practice and productivity system.  The kit comes a blank journal, markers, washi tape, and a ruler. Check out a kit along with Dot Journaling: A Practical Guideby Rachel Wilkerson Miller.
Block Printing We have either a Speedball Block Printing Kit with linoleom cutters, rubber block and inks, or a kit with foam that can be imprinted with a wood stylus or cut for making stamps (no sharp tools…) Check it out with Stamp It: DIY Printing with Handmade Stamps by Jenny Doh.
Pompoms Loome Party, by Vilasinee Bunnag, is book and wooden tool with 20 projects to inspire your pompom and tassel making imagination. Work your way through your yarn stash!
Doodle Embroidery Our embrpoidery kit includes a 6″ hoop, needles, thread snips, floss and fabric. Check it out with Embroidery and Beyond by Aimee Ray for some inspiration.
Sashiko  Try your hand at traditional Japanese stitchery with our Sashiko kit. It comes with fabric, templates, and sashiko thread and needles. Check it out with Sashiko + Color by Ayako Terashima for a bit of instruction.
Playful Painting: Pets by Faye Moorhouse. Kit comes with gouache, paint brushes, palette, and paper.