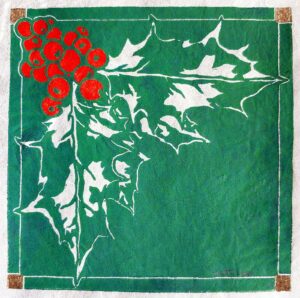 DIY Art & Craft Kits
It's the easiest way to try something new – check out one of our art & craft kits! Each kit comes with a book and all of the supplies that you need to sample a new technique, medium, or project. We add a set of 10 kits each season, plus we keep a few of each previous kit on hand. Check one out, use what you need of the consumable supplies, return the whole package with any "leftovers" when you're done. 
Winter 2021: Stamp It DIY Printing with Handmade Stamps by Jenny Doh. For adults we have a Speedball Block Printing Kit (with linoleom cutters), papers and inks. The printing kits for younger artists include foam that can be imprinted with a wood stylus or cut for making stamps.
Also Winter 2021: Loome Party by Vilasinee Bunnag. The book has a wooden tool and 20 projects to inspire your pompom and tassel making imagination! Grab a few balls of yarn from our basket, or work your way through your at-home stash.
Fall 2021: Embroidery and Beyond by Aimee Ray. Comes with hoop, needles, thread snips, floss and fabric.
Summer 2021: Playful Painting: Pets by Faye Moorhouse. Comes with gouache, paint brushes, palette, and paper.