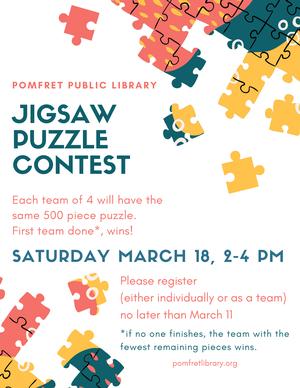 Jigsaw Puzzle Contest
Saturday March 18, 2023
2-4 PM
Join us for a fun and competitive afternoon! Each team of four will have the same 500 piece puzzle to solve as quickly as they can. At the end of two hours, if no team has finished, the team with the least amount of pieces remaining will claim victory. The winning team will receive bragging rights and our enthusiastic congratulations.

Whether you're attending as an individual, pair, trio, or quartet – please be sure to register each person individually.