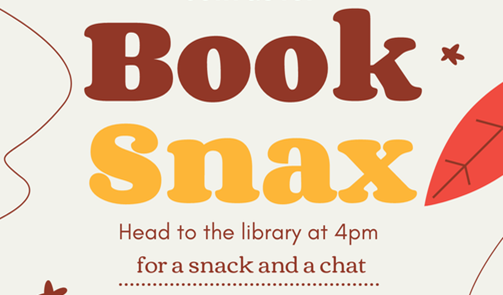 We're VERY excited to share a new program for parents and their kiddos this fall.
Do you have too much going on to commit to a book club? Between work, kids, school, house, meals, and extracurriculars, a book club is the furthest thing from your mind when (if) you finally have time to sit down and read.
Enter: Book Snax! If a book club is a whole meal, think of this as just a snack.
Miss Heather will take the kiddos (to do an activity or have a snack or play outside – the point is, she takes them!) and the grown ups can sit down with Kim and have a book(ish) chat. Talk about what you're reading, or what you're looking forward to reading, or how much you miss having time to read. Sip some lemonade and have a cookie. You've earned it.
Dates – Second Thursday of the month at 4 PM
9/9/21
10/14/21
Nov – library closed for Veteran's Day
12/9/21