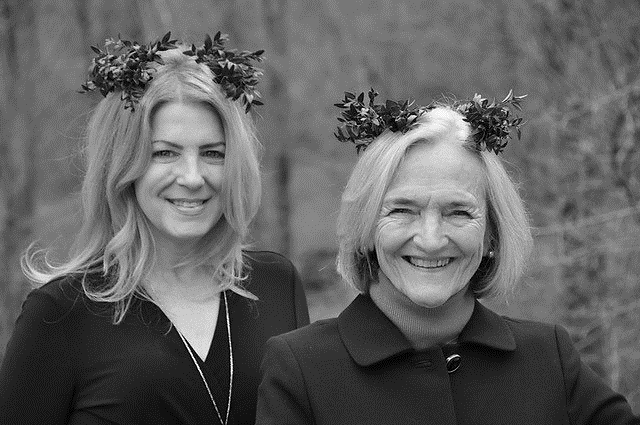 Pomfret's First Poets Laureate
Congratulations to Christine Kalafus and Nancy Weiss!
Pomfret's Board of Selectmen approved a resolution in August establishing the position of Poet Laureate for the Town. The administration of the position is under the direction of the Board of Trustees of the Pomfret Public Library. As required, the Board of Trustees received nominations for the position, and forwarded a recommendation to the Board of Selectmen for appointment.
The recommendation from the Library Trustees, and appointment by the Board of Selectmen, installed two Poets Laureate, Nancy Weiss and Christine Kalafus. Because both candidates met the requirements and were so well qualified, the decision was made to appoint both as our first recognized Poets Laureate.       Christine and Nancy will work together over the next two years to encourage the appreciation, writing, reading, and performance of poetry by providing public readings, workshops, lectures and /or presentations. They are challenged to promote literacy through poetry and foster the development of a youth poetry initiative. 
Nancy is a lifelong Pomfret resident and has encouraged others to share their stories through poetry, oral histories, memoir writing, and writes a weekly column in the Villager. With Husband Jim, she has two daughters, two sons-in-law, and several grandchildren.
Christine has lived in Pomfret for 6 years, has published poetry, essays, performed with The Moth, and leads writing workshops throughout Connecticut. A regional representative for the Ct Poetry Association, Christine also leads monthly meetings of the Quiet Corner Poets. Christine raised three sons with husband Greg.     
Pomfret's Poets Laureate share a commitment to honoring others by encouraging them to share their stories, lives, and experiences through poetry and other writings. Both have dedicated themselves to this to such a degree that the Board of Trustees couldn't choose one over the other and made the recommendation to appoint both.
Congratulations to Nancy and Christine. We look forward to the next two years of our inaugural Poets Laureate and eagerly await their collaboration to enhance Pomfret's awareness and appreciation of poetry.