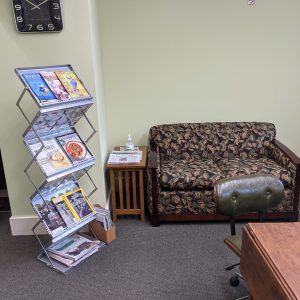 Working from home got ya down?
Need a quiet place to work on a project?
Want to just drink your coffee hot for a change?
Have we got the room for you!
I mean, don't get too excited. It's just a room in a library. It has a couch and a Keurig. You can use the computer or print something out. You can use our shredder and then go off the grid. You can meditate but I recommend trying that AFTER storytime is over.

I suppose what I'm saying is, if you need a change of scenery, don't forget about the library.