Welcome to the 
World of the Wee Folk!
Fairies, pixies and sprites,
leprechauns, gnomes, brownies and elves!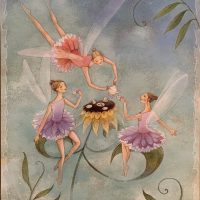 What's in your box?
snacks for your afternoon wee folk tea – mint tea with honey (good hot or cold!), biscuits with strawberry jam, and salty sunflower kernels
a couple of coloring pages
Lots of odds and ends that you can use to make a wee person and their house, plus a crown for yourself! See below for details and lots of ideas.
and a confetti popper, just because it's fun!
It's Time to Get Creative!
This is our most open-ended Story Box – We went through our craft supplies and threw in anything we thought would be useful to make a Wee Folk person and their house, plus a crown. Use what you like of the supplies we included, and feel free to also use anything you have on hand at home. 
See below for some brief instructions, and click on the link to our Pinterest Boards for loads of inspiration!
Wee Folk
Do you want to make a fairy? a gnome? a leprechaun? They all start the same: bend a pipe cleaner to make a body, top with the wooden bead for a head, and then customize your little friend with flower petals, felt and fabric, hair, a gnome hat or wings – whatever you like. You'll find lots of charming ideas on our pinterest board. 
Wee Folk House
Your Story Box has another little box inside – the kind used for getting take-out at a restaurant. That's for you to make a wee person house with! Cut out a door and windows (ask for help with that!) and decorate your house with the ribbon, tape, leaves, and other odds and ends in your kit, or with stuff you have at home or find outside. There's also a paper (with the coloring pages) that has a pattern for a cone-shaped roof. You can use the included paper, or cut it out and use it a template with paper or a stiff fabric that you have at home. Find some ideas on Pinterest.
A Crown
You'll probably want a crown to wear at your wee people tea party! We included a length of paper-wrapped wire that you can shape into a simple crown. You might want to keep it that simple, or you can add beads, ribbon, flowers, twigs. Again, lots of ideas on the Pinterest board. 
Extras
Here are some more things we love, but couldn't include in your Story Box:
mushrooms made of marshmallows and strawberries
a nature wand made with a twig and some ribbon or floss, leaves and feathers
a pretty pair of ribbon "sandals" 
The story of the Cottingley Fairies and how two little girls, Elsie and Frances, had the world convinced that they had photos of real fairies!