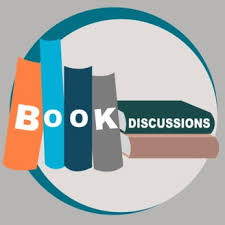 Our book discussions are moving online for the time being.  After much exploration of options, I've decided to start a couple of book groups on Goodreads. I hope you will join in and add your comments and responses! – Laurie
Someone's in the Kitchen – join this group for an online discussion of Pie Squared by Cathy Barrow. (and possibly future books, depending on when we can actually meet again). Our April book is Healthyish by Lindsay Hunt. If we reopen in early April you'll have a chance to get a copy, but if not you can get the eBook from Hoopla or look for recipes on her blog. Cook at home and tell us about the results!
Third Thursday – Our March selection is Women Talking by Miriam Toews, a book that I find utterly fascinating and expect to read a few more times. I'm not going to say more than that here – you'll have to join the Third Thursday discussion on Goodreads! Our April book is Meet me at the Museum by Anne Youngson.  Again, there are copies at the library; hopefully you can pick one up in early April, but it's also available as an audiobook on Hoopla. It's an epistolary novel and I see there are two readers, so that should make it an interesting listen.