Mythical Monster Madness!
What's in Your Box?
What do monsters eat? We don't really know, but you have some worms and some leather and Minotaur Madness seltzer, and a tictac to freshen your monster breath!
another Imagine Your Story tag for your collection
a coloring page, a MadLib and a maze
A Travel Troll with a tin for riding around in your pocket
A Monster Claw Hand to make
Independent Reader box: Monster Maze Challenge
Family Reader box: a Glow Stick!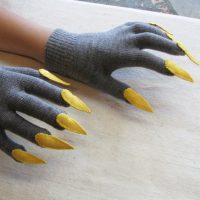 MONSTER GLOVE
supplies: glove, foam paper
from home: scissors
use your piece of foam to cut out five teardrop shapes for the fingernails/claws
peel the paper backing up about half way to expose to self-adhesive back of the foam and cut the paper off
put the glove on the hand that you want to be monstrous with and stick the claws on each fingertip
GGrrrr!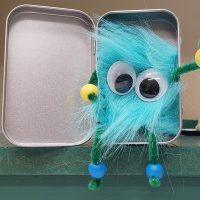 TRAVEL TROLL
supplies: fun fur, googly eyes, pipe cleaner, beads, tin
from home: scissors or wire cutters, strong glue, stapler
cut your pipe cleaner in half and slide beads on the ends. One will be the arms, and the other is the legs.
fold your scrap of fur in half. Staple either side close to the fold. Lay the arms in place between the layers of fabric and and staple twice on both sides again.
staple once half way across the bottom. Bend the legs and feed it through so there is a leg on either side of the staple. Staple once more on the other side of each leg
glue on the eyes (hot glue works best – get help with that!) and your troll is ready to roll! 
What does your troll like to carry? You can add some accessories if you like, or decorate his little tin house.
MINOTAUR MAZE
The minotaur was a part man / part bull monster of Greek mythology who lived in a maze. Dust off your engineering skills, and see if you can build your own maze!
Supplies: box, straws, graph paper, marbles
from home: scissors, strong glue 
fold up the sides of the flattened box
Use the piece of graph paper to map out your maze. It can simply go from start to finish, or have some spots where you collect points. You could use the punch-out holes in the bottom of the box as your ending point, or they could be traps that you have to avoid. There are some samples and ideas HERE.  Remember to leave the path wide enough for your marble to pass through.
Using your map, cut straws to the lengths needed to make the walls of your maze. Glue them into place in the bottom of your box. Hot glue would work, or a heavy glue like Tacky Glue.
MORE FUN STUFF
a Magic Creatures Memory Game – Print the game and match up the monsters with their silhouettes. Based on the picture book, Miss Turie's Magic Creatures by Joy Keller.