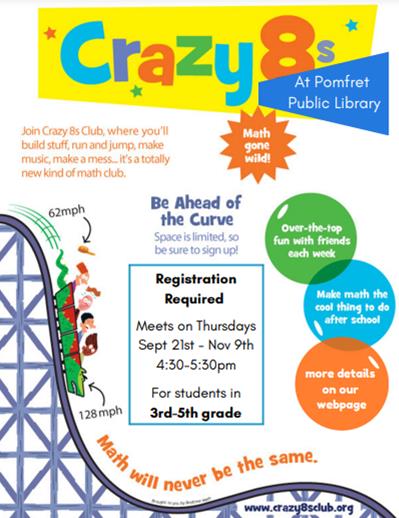 Crazy 8's Math Club
Thursdays at 4:30 PM
8 sessions, September 21 – Nov 9
Crazy 8s is a math club unlike any other! It offers unique, high-energy math activities that appeal to kids of all math abilities. Mischief-making activities that kids love, like Bouncy Dice Explosion and Spy Training. We start with the fun, then roll in the math. It is not a tutoring class, this is 100% geared towards fun. 
This fall session of Crazy 8s is for children in grades 3-5, registration is required and you must be able to attend all 8 weeks (within reason of course).  There will be another session for younger kids in spring.
Dates:
September 21
September 28
October 5
October 12
October 19
October 26
November 2
November 9