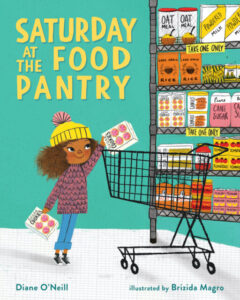 Saturday at the Food Pantry, 
May 7, 2022 @ 9-11 AM
The library staff will be at the Pomfret Community Center on May 7th collecting donations for the Pomfret Community Market!  We will be there from 9am-11am collecting a wide array of items. The Community Market accepts FRESH and FROZEN food as well as dry and pantry items! This is such an important and often under-donated category – how can you make that pancake mix without eggs?!
Ms. Heather will also be doing a storytime at 10am, reading Saturday At The Food Pantry by Diane O'Neill for all of the children who might pop by.
"If you are interested in donating to our Community Markets we are always in need of cereal, soups, pasta, pasta sauce, canned meat, peanut butter, and personal hygiene items. Our Community Markets include both a refrigeration cooler and freezer which allows us to accept donations of fresh produce and frozen items as well." (From TEEG Community Market)

If you are interested in information on using the Pomfret Community Market services please call 860-923-3458 or click here to go to the webpage

Pomfret Community Center 207 Mashamoquet Road Pomfret, CT 06258