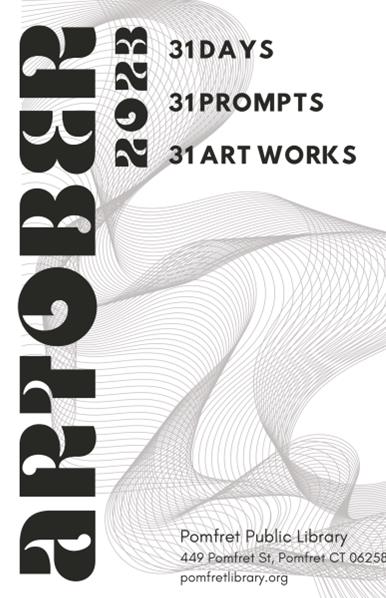 ARTober 2023
31 DAYS – 31 PROMPTS – 31 ARTWORKS
Join us for our October 2023 Creative Challenge! 
RULES – There aren't any.
Our 31 prompts are words or phrases (book titles, actually) that we hope will inspire you in whatever artistic pursuit you like. The goal is to give you some motivation for a month of creativity!
REGISTRATION is not required. However, if you DO sign up you get:
a 50-page multi-media sketch pad (while supplies last)
an invite to meet with other ARTober participants and exhibit your work at the library
email notification of future arts programming at PPL
ENCOURAGEMENT – to get you started and keep you going.
Borrow a Sketch Box art kit – it will have everything you need to get started with a particular technique. Use the materials and tools in the kit and return what you don't use.
Build Your Own Art Kit! You can dip into the library stash of art supplies and put together a kit with pastels, gouache, embroidery floss, block printing tools, etc .
Borrow some books! We have both print and e-books for instruction in all manner of creative endeavors!

Download the ARTober 2023 Prompts:
ARTober 2023 Prompts.pdf  
REGISTER for ARTober 2023